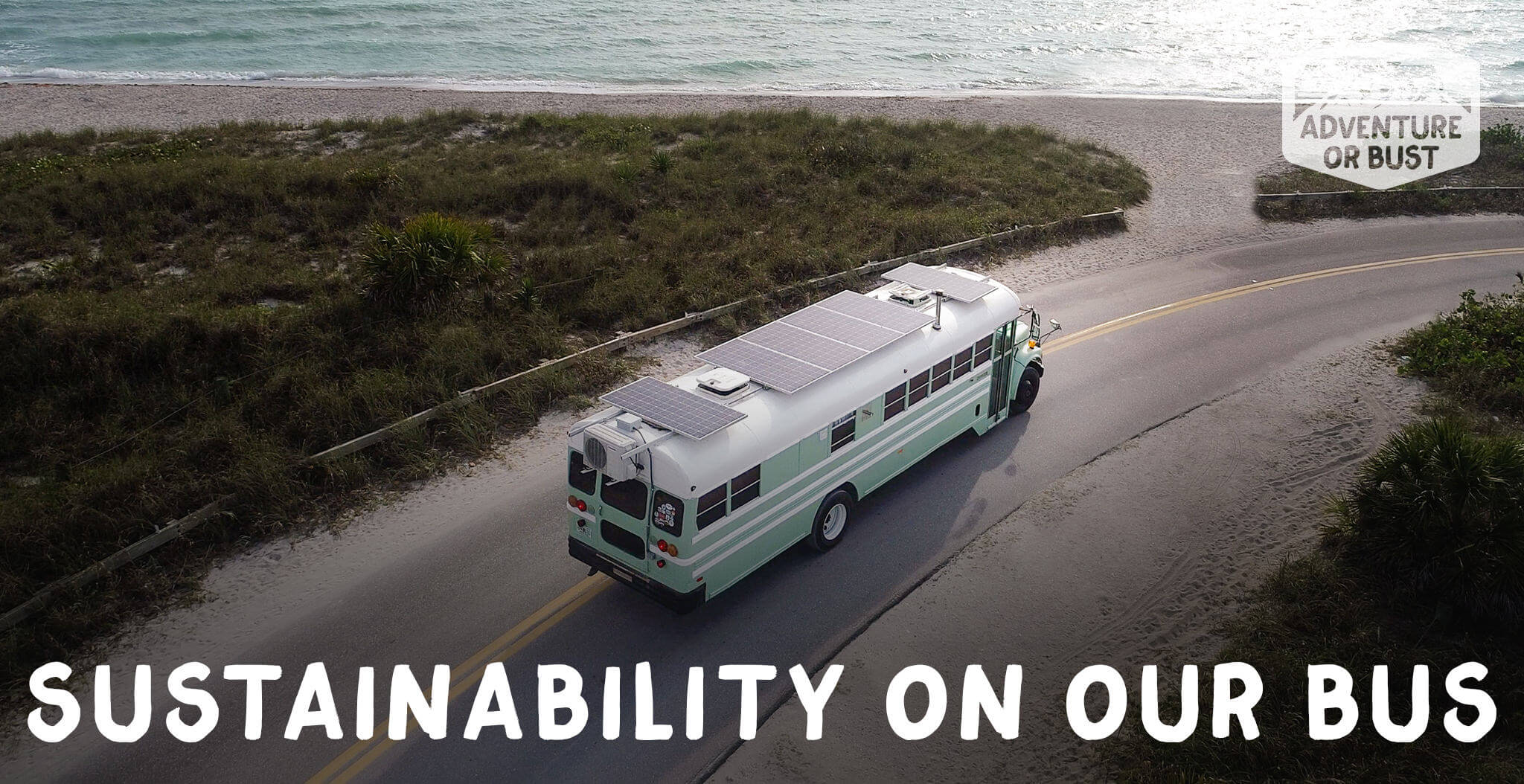 22 May

Sustainability on Adventure or Bust
What Sustainability Means to Us
One of the main reasons we chose this lifestyle was to live a more sustainable life. Protecting our environment and having a smaller footprint has always been important to us. For years, Steven and I discussed building an off-grid home together. Our bus has given us just that.
Now, of course, we're not totally sustainable. Our bus does run on diesel, and we don't collect rainwater (yet), and we aren't zero waste. While we're continuing to make changes in our lives that add to our environmentally friendly efforts, we do what works for us at the moment. Here's an honest breakdown into how we're sustainable and how we're not.

Solar
The obvious one is our solar setup. We run our bus completely off solar power. We have over 2,100kw worth of panels and 200 amp hours at 48 volts of battery storage. This setup allows us to run everything we need inside our home. It was quite a hefty investment of about $5,000, but for us, this was the key to living an off-grid lifestyle comfortably. This set up is massive, we don't even think about electricity it just works. Some of the products we're using for solar are:
Compost Toilet
With our Nature's Head toilet
we are able to eliminate our need for a black water tank. Not to mention it didn't sit right with us to waste a gallon of water every time we needed to go. Our Nature's Head was a lot of money (about $1,000), and we often get asked, Why we didn't just build our own?" Nature's Head
makes a great product at a fair price, so why reinvent the wheel? We use Triumph Plant Coco Coir Bricks
in our toilet.
Water
We're set up to hold 110 gallons of freshwater and 72 gallons of grey water. Our water tanks allow us to be off-grid comfortably for a good few days. If our parking situation allows for a hose, we'll plug in for convenience. On the road, we fill up our freshwater tank with potable water. We fill a PUR Dispenser
with water from our tank, which is what we drink from. Our old parking spot had a very nice filtration system set up before the water reached us, so what we got from the hose was already filtered. Since we'll soon be parked again for a while, we're planning on installing a filtration system under the sink so we don't have to worry about the quality of the water coming from a hose.
One day when we're more permanent we'd love to set up a rainwater collector!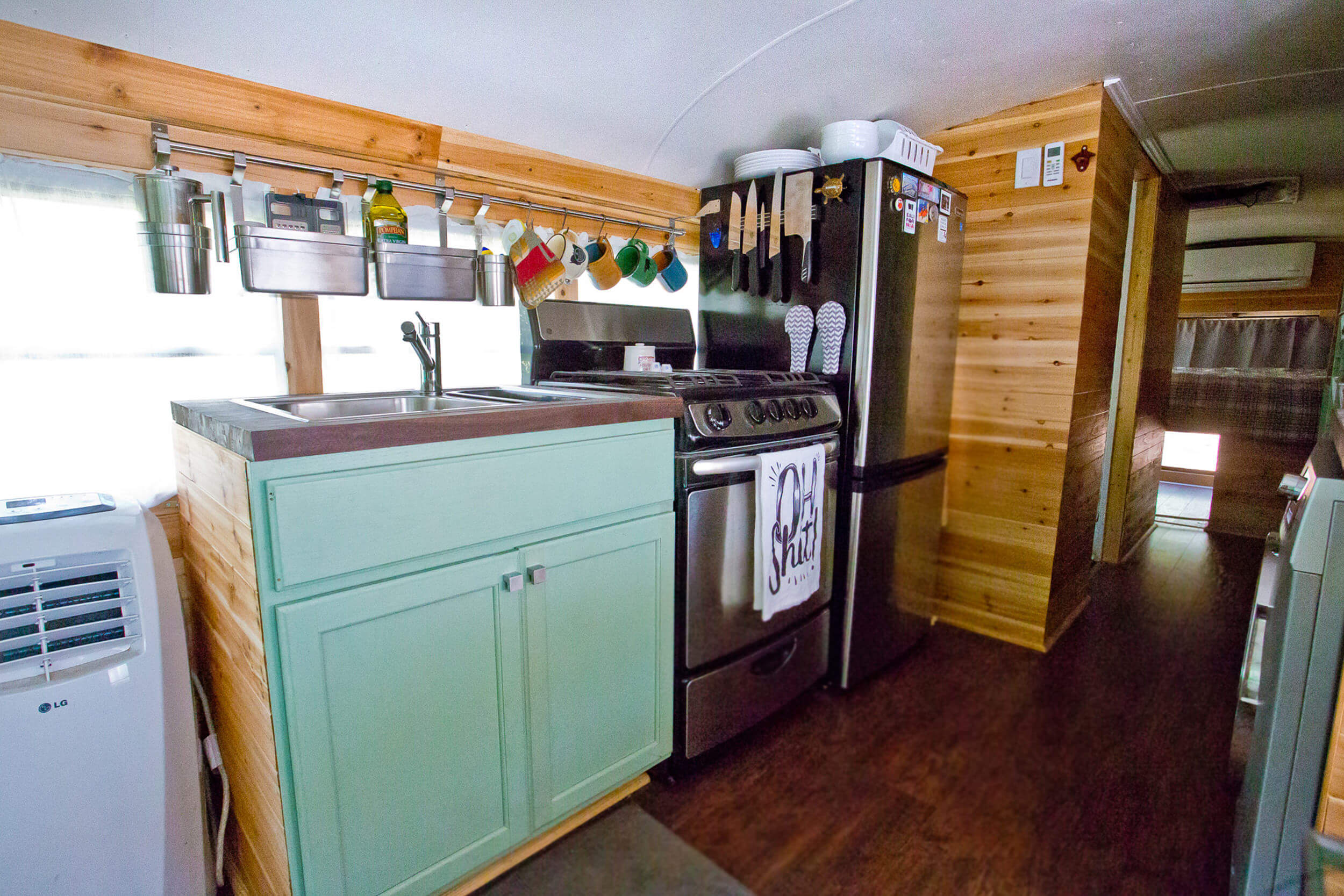 Energy Consciousness
Energy consciousness was a major factor in a lot of decision making during the build. We insulated our bus with high-quality closed cell spray foam. The product we used is better for the environment than other foam insulations. We painted the top of our roof with Henry's Elastomeric Silicone Roof Coating to reflect the sun's heat directly. We chose energy efficient appliances for our home. We have a propane stove and hot water heater (making heat with electricity is super inefficient). Our lighting is all LED.
Paper, Plastics, and Cans
We use a lot of rags for cleaning up messes, but we do still use paper towels. We've decreased our use, but for those really messy messes (like cleaning up dog throw up), we like to keep paper towels handy.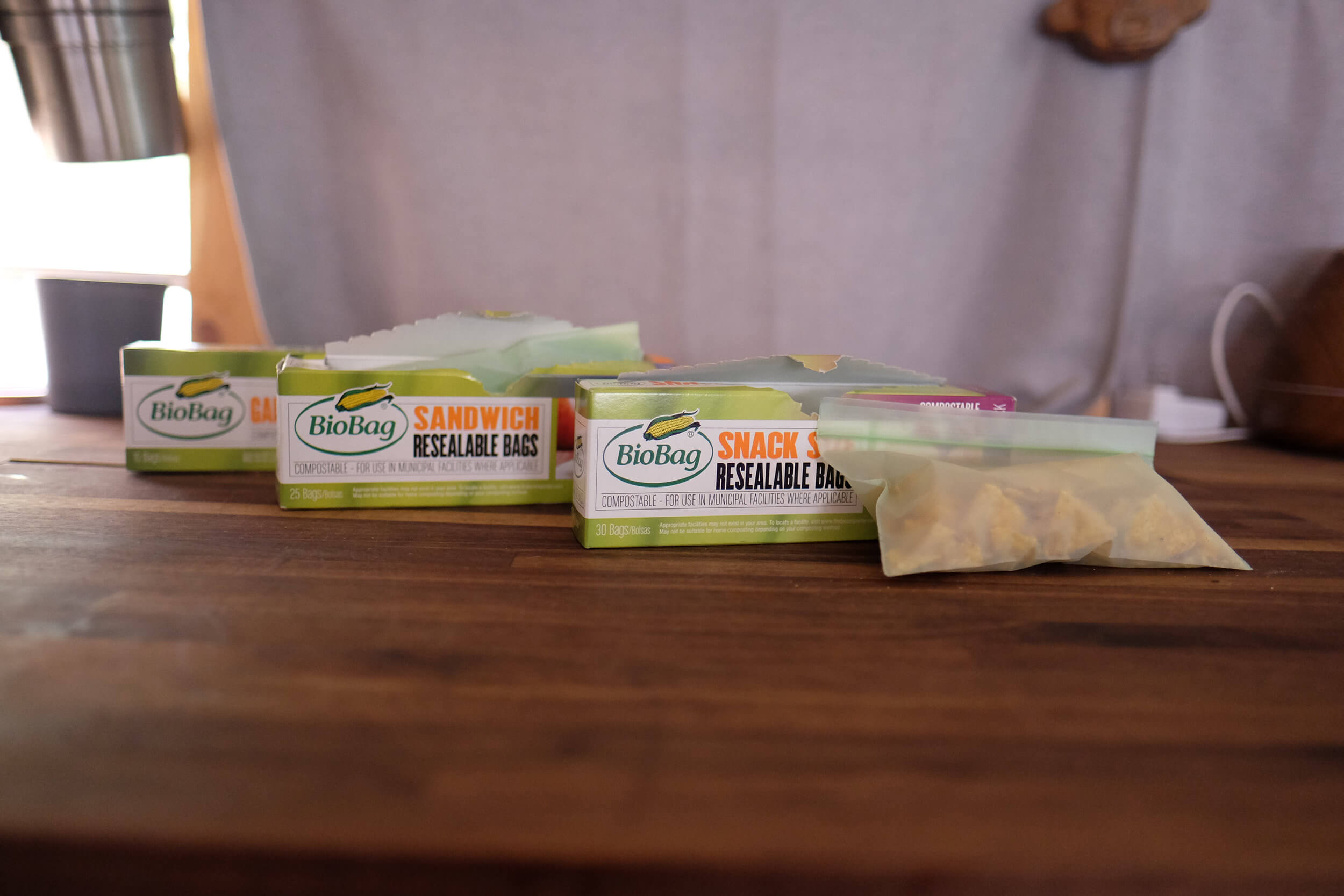 We cook a lot and we use glass Pyrex
to store our leftovers. However, Pyrex
is a bit too heavy to bring when we're hiking or need food on the go. We all know plastic bags are terrible for the environment, yet so convenient, so we were excited when BioBag reached out to have us try their compostable storage bag line. The BioBag storage bags that are like using plastic storage bags but are certified compostable. We now include them on our shopping list. Makes us feel a lot better about packing food!
While we have no need for plastic water bottles, we do buy beer, Redbulls, and the occasional soda. We try our best to recycle our glass and cans. It is a lot harder to recycle on the road though than we anticipated. The difficulty seems to depend on the city we're in.
Like I mentioned, we aren't zero waste. We do buy packaged items from the store. We do try to be choosy with what needs to be purchased with packaging and what can be purchased in bulk or without bags.
Soap and Cleaners
We use natural cleaners and natural soaps in our home. From our all-purpose house cleaner to our hair and body soaps, we like to keep in natural. We feel comfortable knowing the water that leaves our grey water tank won't be harmful to the environment. Some of our favorites are Zum laundry soap
, Young Living for household cleaners, Aveda for hair products, and Dr. Bonners for soaps. If anyone has better ideas for soap choices we would love to hear them! Drop us a line in the comments!
Misc.
Some other ways we're environmentally friendly is by using reusable grocery bags, using biodegradable pet waste bags (also made by BioBag), and supporting companies that care about the environment, etc.
So that's what we're currently doing. We're continually educating ourselves on how to be more environmentally friendly. We plan on continuing to produce less waste and continuing to grow our sustainability efforts.
We want to know, what are you currently doing to be more environmentally friendly? What are you planning on doing in the future? Do you have any tips for us?
This article contains affiliate links.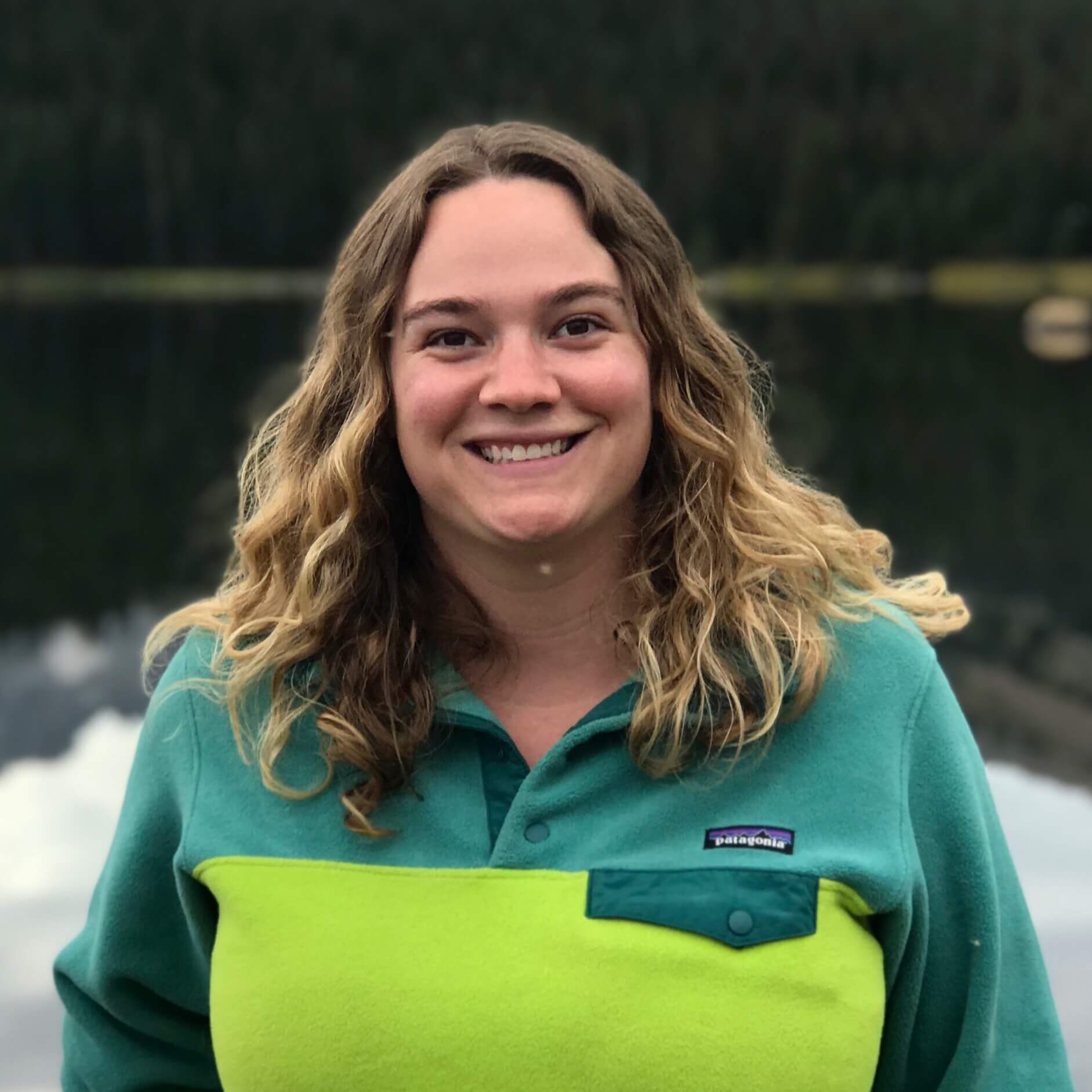 Hello! I'm one half of Adventure or Bust. I'm originally from Baltimore but grew up in Sarasota, Florida. I run a small Strategy and Design company called Ascent Collective. I'm extremely passionate about sustainability, minimalism, tiny life, and personal finance. I enjoy hiking, fishing, biking, and spending time with Steven and our two Aussies.