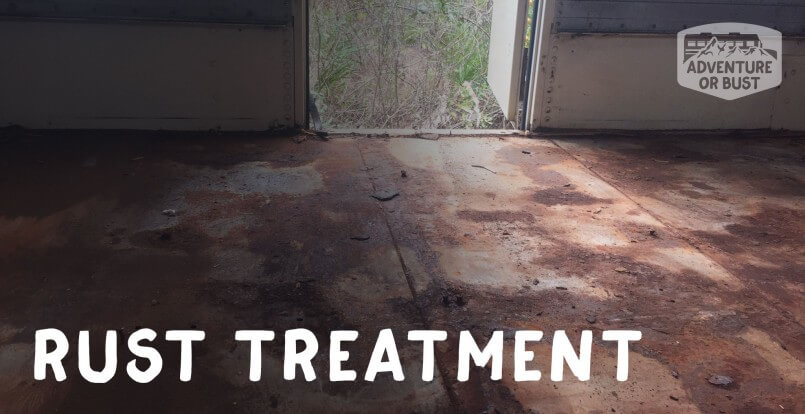 04 Mar

Workweek 2 – Rust Treatment

Welp. We found rust…and lots of it. Here's what we did to treat it:
Removed heavily scaled rust
Applied a rust converter
Scrubbed off the rust converter
Patched the holes
The detailed of what we did each day are below.
Saturday, February 27th
Once we ripped the flooring up it was obvious there was a lot more rust than we had thought. There were lots of patches with loose and flaky rust and some patches that were completely rusted through.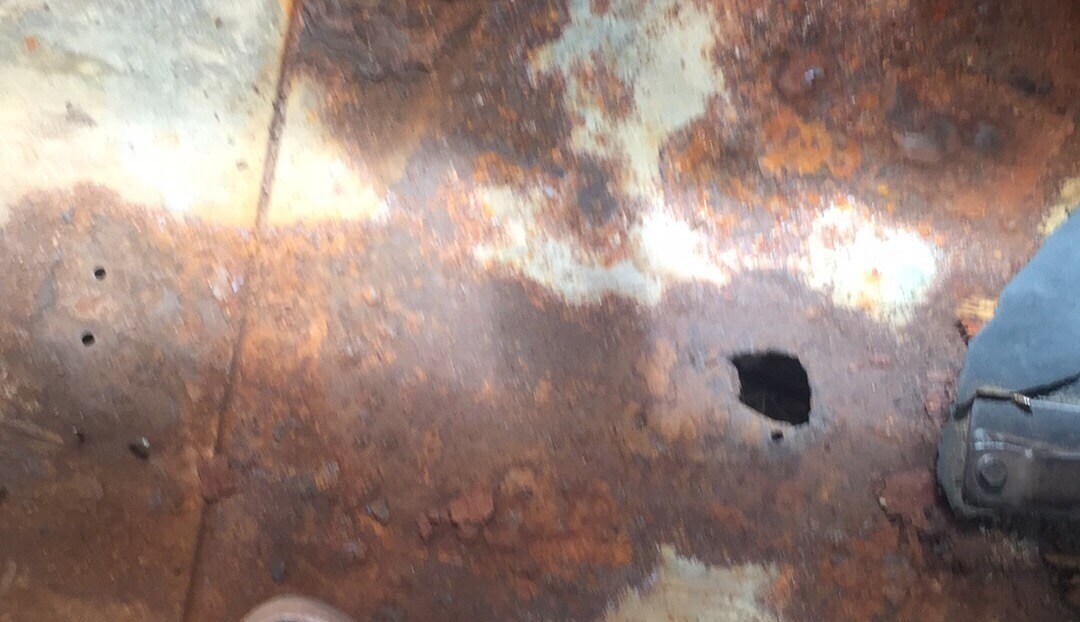 Not what you want to find when this is the floor of a mobile home.
We decided the best way to tackle this issue was to use an OSPHO like product from Home Depot. OSPHO is a rust converter that is used to turn rust into a paintable surface.  It's basically magic.
We began by removing the heavily scaled areas. You can remove the rust by use a
ny of the following tools:
A wire wheel on a drill

A needle scaler (an excellent tool that can be purchased for pretty cheap).


A hammer
"A hammer? Really?" Yes really. A regular, old hammer. This is the option we chose. A few medium strength whacks from a hammer loosens up the rust enough to be swept away. It took us a few hours to get the worst of the rust up and sweep the floors.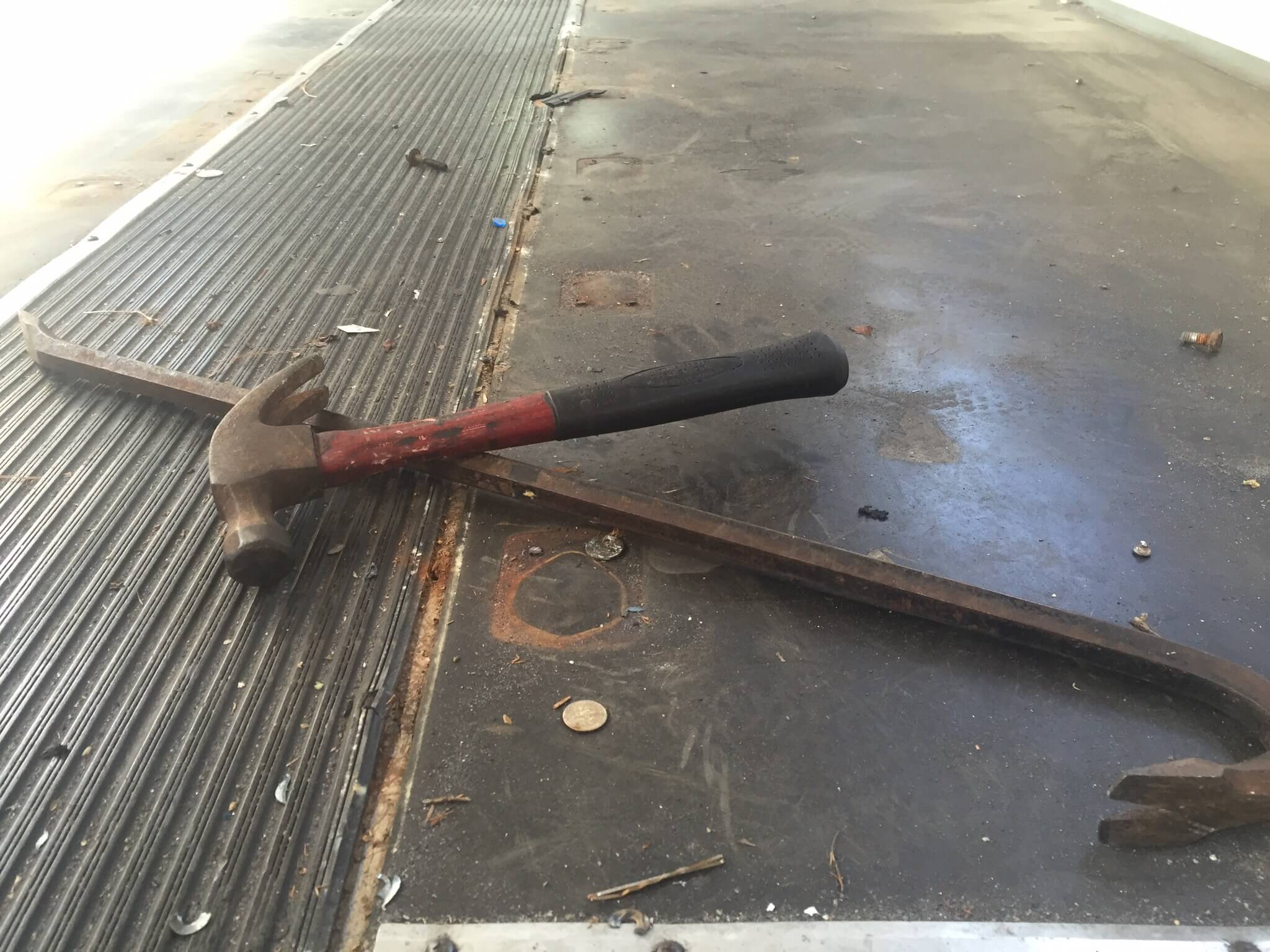 Once the rust was swept away, we followed the manufacturers instructions and applied the OSPHO using a 1-gallon sprayer. We sprayed it around 2:00pm and left it overnight to dry. We came back the following morning, applied a second coat, and left that overnight to dry as well.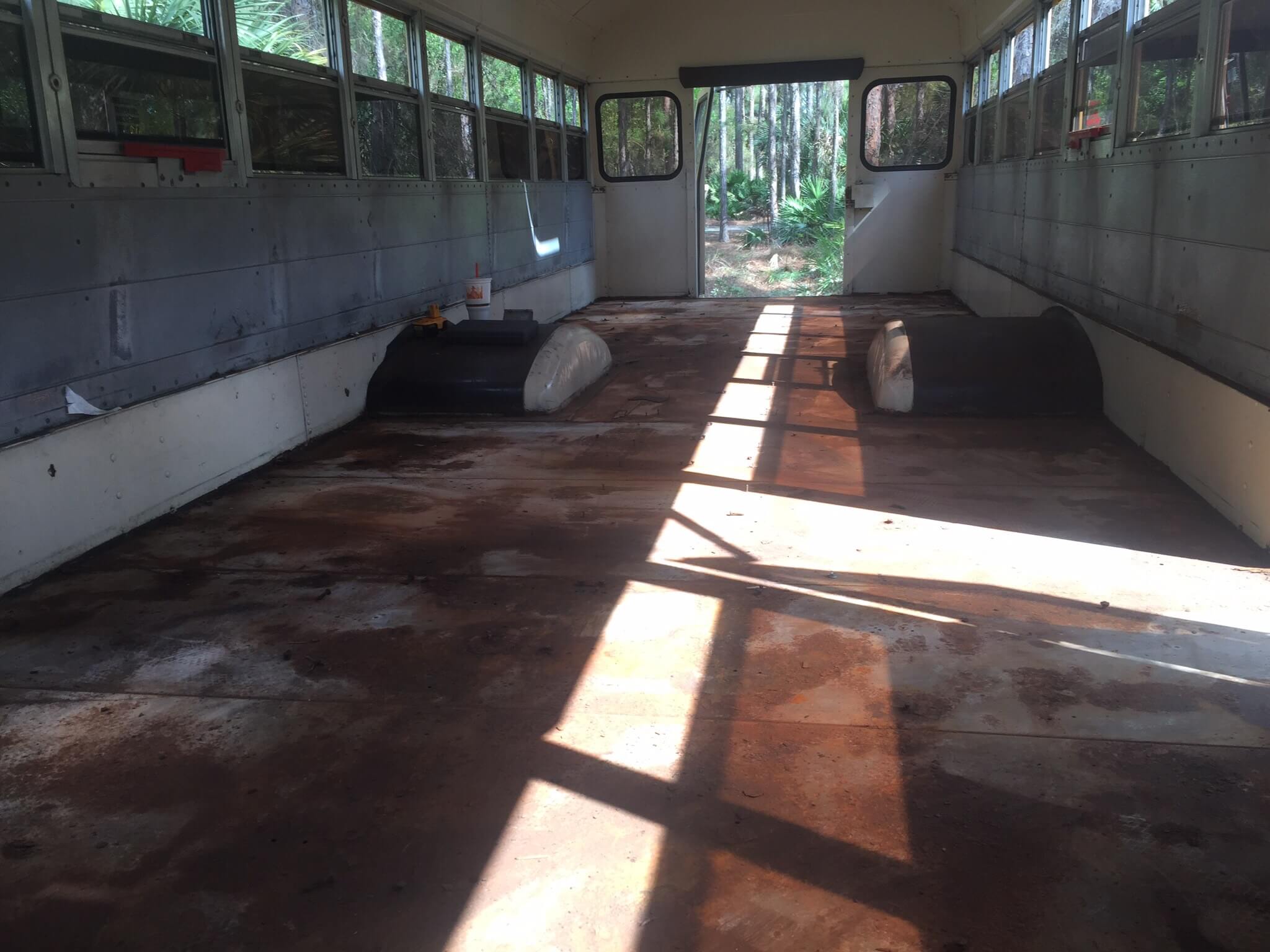 Monday, February 29th
The third day we came and washed off all the OSPHO using water and a brush. I found it takes a lot of water to get the all the OSPHO out. Make sure to have a water source handy for this step. Finally we were ready for floor primer and paint.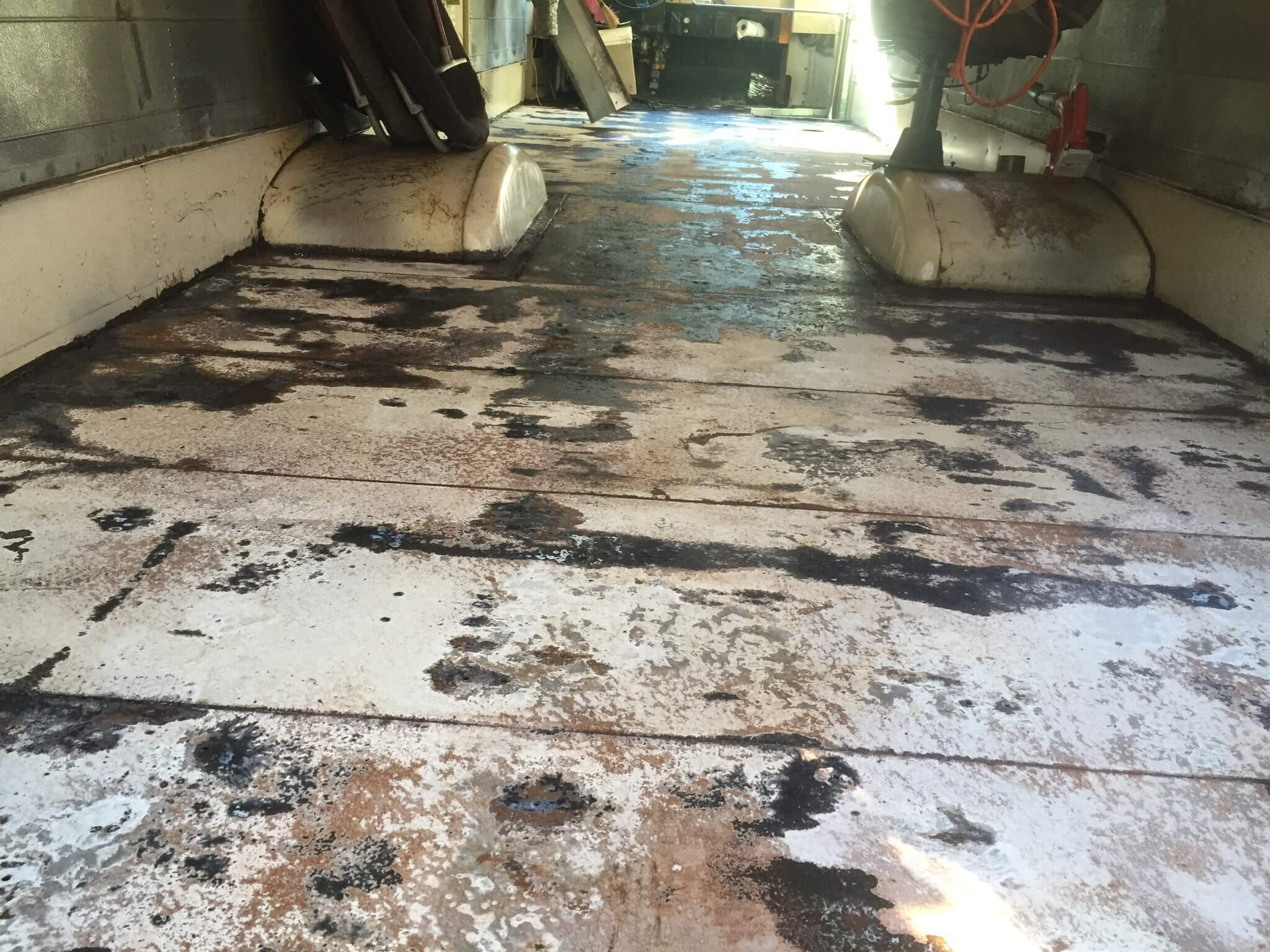 After adequate drying time, we used a Rustoleum professional oil based paint and primer. It was applied with a regular old paint roller. This step is pretty self-explanatory. We just followed the instructions on the paint can; I think the floor came out looking pretty great!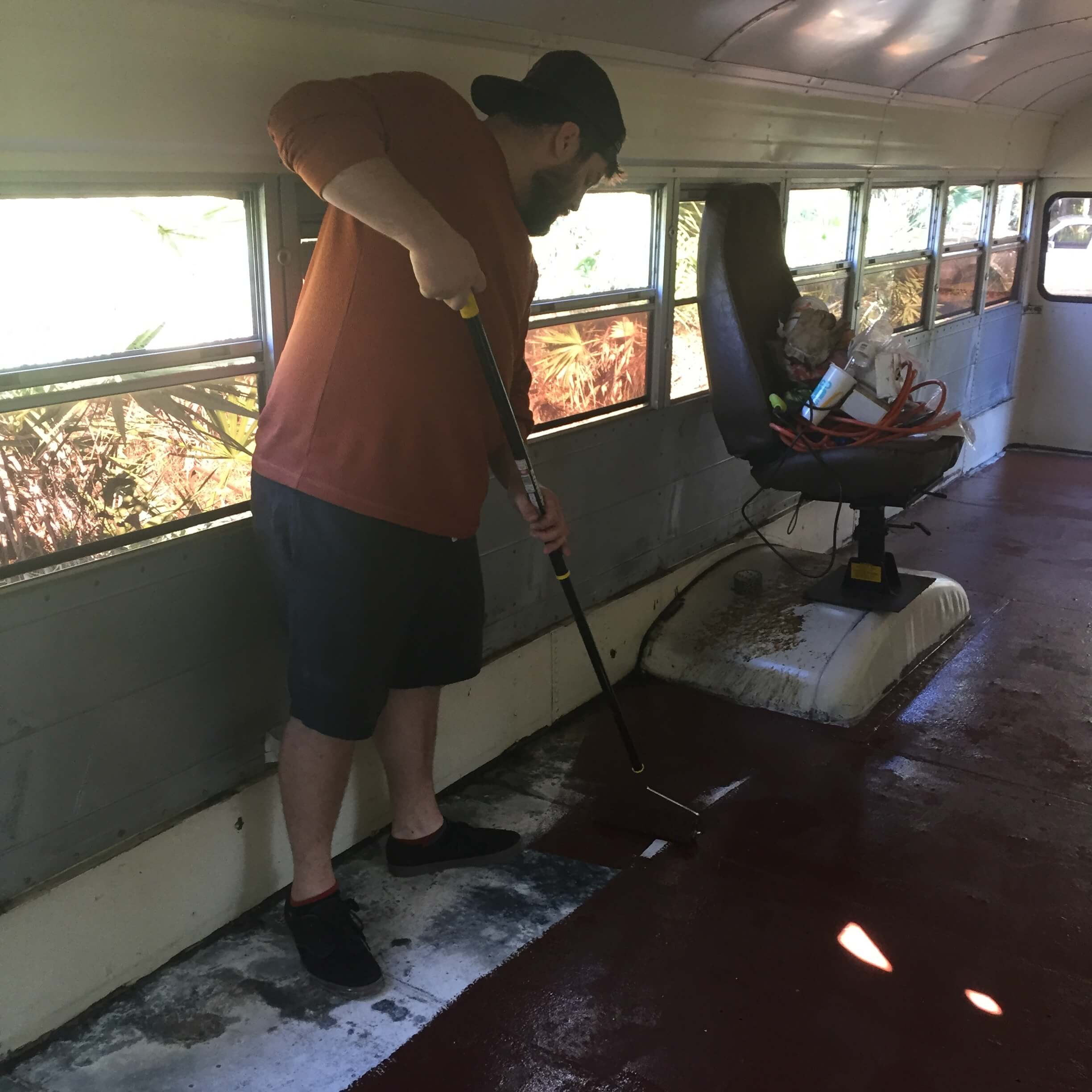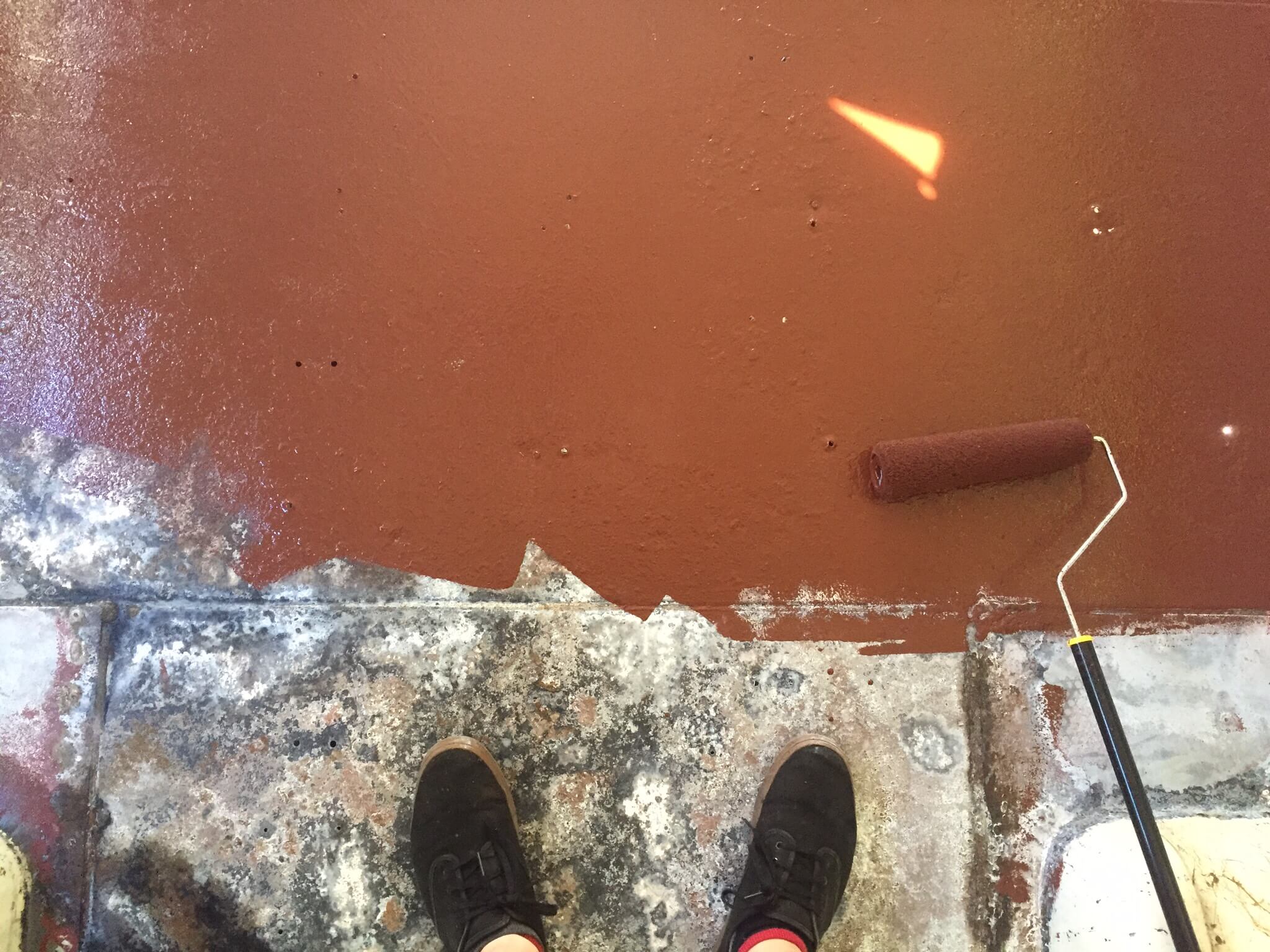 Now that we stopped the spread of the rust, the holes in the floor must be addressed to keep it from coming back. There are TONS of ways to deal with this. You can weld patches, use silicone to patch the areas, use silicone to hold down patches, fiberglass ect… We chose to use Bondo Glass.  The holes were patched from inside the bus using the fiberglass. Underneath we used a rubberized spray paint by Rustoleum to seal it. The rubber spray paint is probably overkill but at least we are sure its sealed.
This step is a TON of work but it is so important that it is done right. You don't want the floor rusting out of your skoolie destroying all your hard work.
Me? I'm a jack of all trades and a master of none. I enjoy anything that takes me outdoors, especially fishing and camping. How many times in life do you have an opportunity to do something truly life changing?
"Buy the ticket, take the ride."
–Hunter S. Thompson